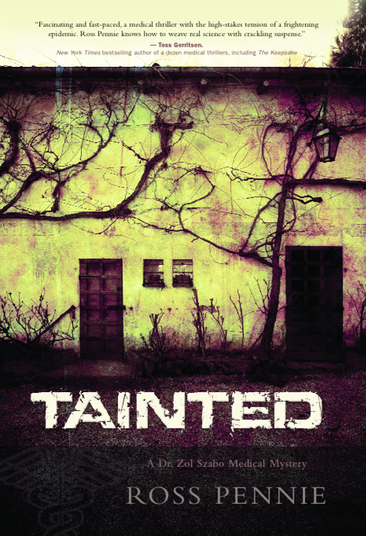 "Fascinating and fast-paced, a medical thriller with the high-stakes tension of a frightening epidemic."
– Tess Gerritsen
"What works are the likeable and convincing doctors and the scary plot. Pennie's message – that no matter how safe our world seems, it's still very fragile – is timely and true." –The Globe and Mail


Who is Dr. Zol Szabo?
Epidemic investigator Zol Szabo's backyard is perched on the edge of the Niagara Escarpment. From there, it commands an eagle-eye vista of the City of Hamilton's steel mills, the endless expance of Lake Ontario, and the glitzy skyscrapers of Toronto. Niagara Falls thunders over the same cliff an hour's drive to the east. (And occasionally spits out corpses.) 
For Zol, balancing  the personal and professional worlds is as tricky as avoiding the precipice at the bottom of his garden. Raised on a tobacco farm by Hungarian parents who frown on divorce, he's been a single father since his wife ran away to an ashram in India six years ago. Much of his world revolves around eight-year Max, whose passions are swimming, indoor soccer, video games, and European chocolates.
Zol was lured to public health by the promise of family-friendly working hours, but investigating community epidemics has turned out to be a 24/7 endeavour – sweating as much over the public's indignation as its safety.
Between Max, an irate public, and his cantankerous boss, Zol has little time for hobbies. But as a former professional chef, he can whip up a fine meal from whatever happens to be in his fridge. He's dated on and off since Francine deserted him. In TAINTED, Zol Szabo #1, he's falling for Colleen, a gorgeous private investigator who's not entirely upfront about her past. The fact that she seems too good to be true makes Zol terrified she could be another Hare Krishna in disguise.