THE UNFORGIVING TIDES is the true story of my two-year posting as a medical volunteer on a remote, volcanic island in the South Pacific in the 1970s: no phone, no Internet, no email. But plenty of watchful nuns and whisky-drinking priests.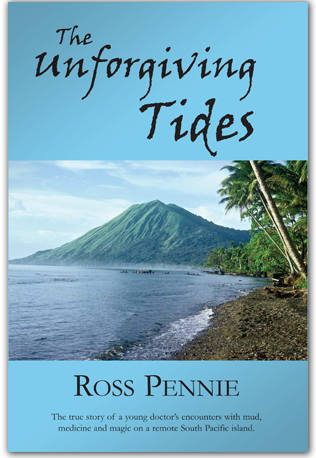 I set off for Papua New Guinea at age 25 with the ink on my doctor's diploma barely dry and my heart afire with tales of the South Seas, Captain Cook, and Robinson Crusoe. From the moment I arrived at Catholic Mission Vunapope, I drew the ire and suspicion of teutonic Sister Pirmina, the sharp-tongued nun who ruled the hospital. First, I removed the crucifixes from the walls of my bungalow. And then, I misinterpreted the chaplain's administration of the Last Rites as a Catholic code for "Do Not Resuscitate"...and nearly allowed a local hero to die!
When a major earthquake rocked the operating theatre in the middle of my first operation, the roof threatened to collapse on top of me, the staff, and the anesthetized patient. I survived, of course, and a few days later removed a nine-litre ovarian cyst (pictured below) from the abdomen of a village lady very glad to be rid of it.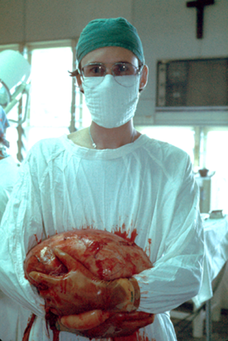 Later, faced with amputating a young woman's mangled leg with little more than a hacksaw, I realized to my horror that the closest I'd come to witnessing that procedure was a Hollywood movie.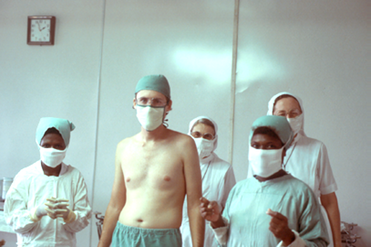 One night, the treatment of Lillianna, a small child suffering from diarrhea and dehydration, went horribly wrong under my hands. My inadequacies haunted me. Did I miss something obvious, or was the lttle girl poisoned by bush medicine in this stone-age land of violence, indifference, and fascinating traditions?
Thousands of people have loved THE UNFORGIVING TIDES and recommended it to their friends and family. In fact, so many readers have loved it that the hardcover edition is out of print…but available gently used from Amazon. I have plenty of shiny new copies of the softcover edition and would be pleased to sign one and mail it to you at very reasonable cost: just click on the Contact Form heading at the top of the page and let me know.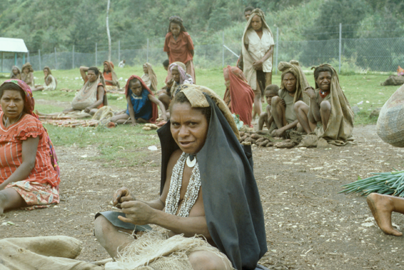 "A National Geographic extravaganza…descriptions are vivid…characters alive…as though you are by his side as he comforts mother camped out with their entire families beneath their children's hospital beds."
– Canadian Family Physician