"Medicine has been my calling…creative writing  my passion." 
Thanks for stopping by. Here, you'll learn a bit about me, have a chance to look at my books, get updates via my blog (I call it News), and send me an email. I love hearing from readers, and I'm happy to sign and send copies of my books to anyone who is interested.
Breaking News!! 
The latest Dr. Zol Szabo mystery, UP IN SMOKE, has been officially launched. It's now ready for readers at all the usual online and brick-and-mortar booksellers.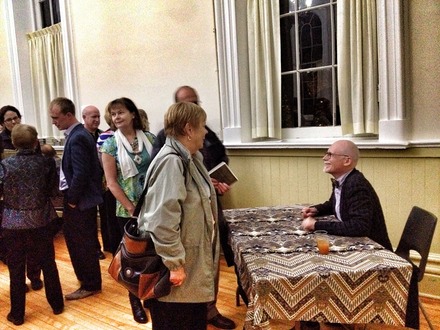 Here is the happy author greeting his faithful readers at the October 16, 2013 launch celebration of UP IN SMOKE. Once again we held it at our favourite venue, the Ancaster Old Town Hall. We made it a fundraiser for Brantford General Hospital (where I practised until retiring on June 1, 2013) and...We sold out! 
Our son Fraser interviewed me on stage. He proved to be a charming, lively, and articulate talk-show host. George Stroumboulopoulos and Jimmy Fallen, watch out!
My career as a specialist in infectious diseases has spanned the globe. Now retired early from Ontario's McMaster University and Brantford General Hospital, my patients have included hockey stars, doughnut addicts, warrior clansmen, and long-haul truckers. I've battled every germ you can think of, from Falciparum malaria to flesh-eating Streptococcus. I started writing at age ten by chronicling the four-day train trip I took solo across Canada's Prairies and Rockies. 
THE UNFORGIVING TIDES: The true story of a young doctor's encounters with mud, medicine, and magic on a remote South Pacific island, is my first book. I'm told it continues to delight readers; people call it gritty and charming, and it makes them laugh and cry. You can see what it's all about under the Memoir heading. Some great photos there too.
TAINTED, my debut Dr. Zol Szabo medical mystery novel, and TAMPERED, the second in the series, are set in Hamilton, Ontario on Canada's Niagara Escarpment. Affectionately known as the Hammer, the city boasts less snow, and as much skulduggery, as nearby Buffalo. Both novels were awarded the Arts Hamilton Literary Award for Adult Fiction. They'll scare you, and make you chuckle, all on the same page. And maybe turn you into a vegetarian!
The third Zol Szabo mystery, UP IN SMOKE, is now on the bookshelves or availabe to ebook readers. We launched in Ancaster on October 16, 2013 and in Brantford on October 23. My editor says it's my best book yet. And I believe everything she says when it comes to writing.
When I'm not banging away at another Szabo and Wakefield mystery, I'm teaching memoir writing (always the professor, eh?) at workshops across the continent. Please check the blog for the next one near you.
I'm a father of two grown children, and live in southern Ontario – somewhere near Zol Szabo and his team of epidemic busters – with my wife Lorna, a talented quilter who loves breaking the rules of that tradition with panache.